My Account
Press enter/return key to sign in.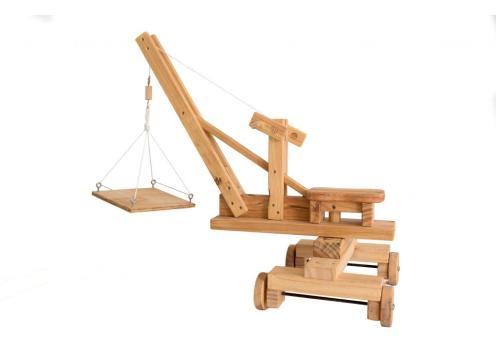 Crane
Ride on Wooden toys are by far our best selling toys, when lil ones can operate the boom, pick up loads and place them down with better and better accuracy, you'll be amazed at how many Mums and Dads try it out after the kids have gone to bed!
The crane now comes with native timber detailing. The native timbers are donated to me by Great Dane Builders Ltd in West Auckland.
Dimensions are Height 190 x 195 x 240
All of our toys and wooden resources are finished with a New Zealand blended oil that is 100% food safe and now includes lavender and Tea Tree Oil which has antimicrobial, antifungal, antibacterial and antiviral properties, providing a further layer of protection for children and early childhood education workers. This has been developed by myself and another New Zealand company and is specific only to Pioneer Wooden Toys.
---
Or pay 6 payments from $40.83 with

What's this?
×

Receive your purchase now, spread the total cost over 6 weekly automatic payments. Interest free!
---


Simply select Pay by Laybuy at checkout

Login or Register for Laybuy and complete your order in seconds


Complete your purchase using an existing debit or credit card


Pay over 6 weeks and receive your purchase now
---
More Information
We are active and passionate Upcycler's which is also known as creative reuse, this is the process of transforming by-products, waste materials, useless, or unwanted products in our case what are deemed as offcuts by the big timber product manufacturer's, into new materials or products (TOYS!) of better quality or for better environmental value.
We aim to produce the finest top quality handmade wooden toys on the market, and with our toys being used everyday in over 300 preschools Kindergartens and Early childhood centers currently…we think we're on target 🙂